Form, Use and Meaning
In Future Forms 1, we focused on will, going to and the present continuous. In this package we will review these structures and go on to look at some other ways of talking about the future.
This table presents the three future structures we have already covered plus the simple present tense which is also used to talk about the future.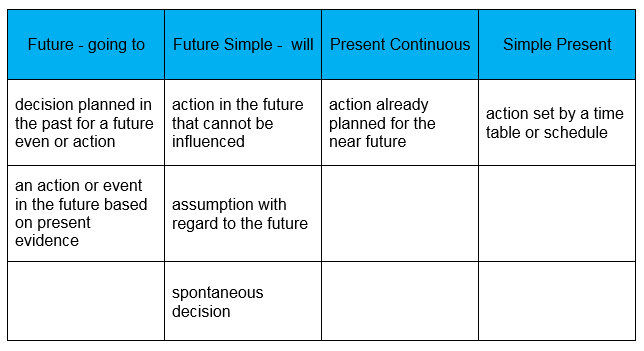 Present simple
The present simple tense is used to talk about a future action or event set by a time table or schedule. Look at this example.
The plane leaves at 1.30 in the morning.
Although the action takes place in the future, it takes place regularly and is set by a time table.
Activity 1
Choose the correct future form in the sentences below.
Now type in the correct form of the verb in the space provided.
Exercise 2
Put the verbs into the correct form using either will, going to, simple present or present continuous.
Click the tabs to show contents.